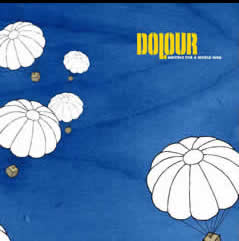 1. So, So Sad
2. Sophie
3. Baby U Rescued Me
4. (No) Ordinary People
5. Ride The Black Stallion
6. Cleopatra Eyes
7. Rocker Chixxx Dig Us
8. Now You're On Your Own
9. Old Age
10. Low Flying Planes
11. (Who Really Cares?)
click for lyrics!
Released: April 17, 2001
Sonic Boom Recordings (SBR-005)
Waiting for a World War
Written by Shane Tutmarc
Produced by Blake Wescott & Dolour
The Musicians:
Shane Tutmarc - vocals, wurlitzer, guitar, synth, piano and organ
Joe Gregory - bass (and lead guitar on track 8)
Paul Mumaw - drums
additional keys and percussion by Casey Foubert and Blake Wescott.
Details:
Recorded & Mixed by Blake Wescott (assisted by Casey Foubert)
Sessions: August and September 2000 at Spectre Studio and Casa Recording Co
Mastered by Ed Brookes at RFI
Art by Jesse LeDoux
Order Album Online!